Menu
The Diplomat
Account
My Account Sign In
About Us
Advertise
Syndication
Write for Us
Contact Us

The Diplomat
| | | | | | | | | | | |
| --- | --- | --- | --- | --- | --- | --- | --- | --- | --- | --- |
| Central Asia | East Asia | Oceania | South Asia | Southeast Asia | Economy | Diplomacy | Environment | Politics | Security | Society |
Blogs

China Power Flashpoints Asia Defense ASEAN Beat The Pulse The Koreas Tokyo Report The Debate Crossroads Asia Trans-Pacific View Pacific Money Asia Life Oceania

Interviews

Photo Essays

Videos

Through the Lens: Life and Politics in Asia

Podcasts

Japan Affairs Asia Geopolitics Korea Talk

Magazine

Subscribe
Features Environment South Asia India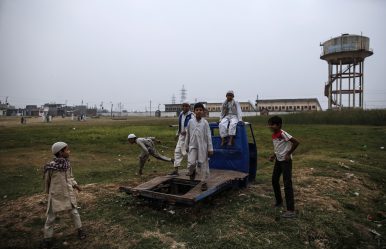 Children play on a field next to the abandoned former Union Carbide pesticide plant in Bhopal (November 15, 2014).
Image Credit: REUTERS/Danish Siddiqui
Bhopal Gas Tragedy Still Haunts India
33 years after the Bhopal disaster, toxic waste at the site continues to ruin lives.
For 33 years, around 336 tonnes of hazardous waste have been lying at the Union Carbide India Limited (UCIL) factory, the site of the infamous 1984 Bhopal gas tragedy. When Environment Minister Anil Madhav Dave announced in Parliament recently that the right wing Bhartiya Janata Party-led Indian government has not yet allotted any funds to dispose of the waste, it triggered vehement protests across the country.
The epic disaster took place in Bhopal, the capital city of the central state of Madhya Pradesh, on the night of December 2-3, 1984. Over 600,000 people were exposed to the accidental leakage of nearly 42 tonnes of the toxic gas methyl isocyanate (MIC) at the UCIL factory; an estimated 15,000 died. Innocent Indians lost their lives or faculties due to the negligence of the Texas-headquartered Union Carbide chemicals producing company, which got away with paying paltry compensation to the victims.
Given this context not only did the minister's statement underscore the state's nonchalance about an episode that brought international opprobrium on India, it also highlighted the continued neglect of a region where — 33 years on — kids are still being born with twisted limbs and other physical and mental deformities caused by their parents' exposure to the gas.
Enjoying this article? Click here to subscribe for full access. Just $5 a month.
Surveys, including one by Amnesty International, have highlighted how toxic material still lies in heaps at the factory while survivors are fighting a losing battle to have the site cleaned up. Studies have established that people are still dying due to the poisoning of groundwater from waste leeching into three ponds as well as several sites around the factory premises. The state's insensitivity underscores an urgent need for a national policy to deal with contaminated sites.
In 2009, 25 years after the tragedy, the Delhi-based think tank Center for Science and Environment (CSE) conducted an independent assessment and found high levels of contamination in the soil and groundwater at the Union Carbide factory site and its adjoining areas.
A joint study by CSE and the Central Pollution Control Board in 2009 also found soil and groundwater to be contaminated with heavy metals and chemicals. A Beilstein test conducted in 2015 found the water from 240-foot-deep bore wells to be contaminated.
Politicians, meanwhile, are quibbling over how to address the problem. Says Rakina Khan, an activist with the Bhopal Gas Peedit Mahila Purush Sangharsh Morcha, "Politicians are squabbling over how to clean the site, what should be done with the waste, and who should pay for it even as the pollution continues to wreak havoc and engulf more areas. For us, the people of Bhopal, even three decades later, our nightmare hasn't ended."
Shashank Shekhar of the Department of Geology at Delhi University adds, "There has been very little attempt so far to conduct an assessment of the groundwater around the area to examine how deep the chemicals may have seeped and their impact on the current and future generations. Studies show that the rate of cancer among the victims is 10 times higher than in the normal population."
The poisonous vapors, now deeply entrenched in the soil and groundwater after many years, are still killing people who are too poor to move elsewhere. "No consolidated record exists to show how many people are still suffering. As a result, even after the government paid the paltry compensation to more than half a million victims, fresh claims are still pouring in," reports the CSE in a study on the impact of the toxic gases.
The world's worst industrial disaster also remains a sharp lesson in the need for greater industrial safety regulations in Asia's third-largest economy. Environmentalists assert that the Bhopal case should have been instructive for successive governments to put in place stricter environmental laws and mechanisms to govern hazardous waste and industries. Yet nothing of the sort happened. Worse, the paucity of effective safeguards continues to plague scores of hazardous industries across India, many of them in the unorganized sector.
Organizations fighting for justice for the Bhopal tragedy victims have repeatedly spotlighted the issue that generations born after the incident are also marked by the poisons that leaked from the pesticide factory.
The matter of paltry compensation continues to rile the victims. "Adequate compensation is important since the health of many victims has been so compromised that they can't even walk. How can we move on without any rehabilitation measure?" asks Rashida Bee, an activist and victim. She explains that the ex gratia compensation of about $1,500 was given to only 33,672 survivors among the hundreds of thousands exposed to Union Carbide's toxic gas. "The government petition still underestimates the number of victims and the compensation did not go to many who needed it," she elaborates.
A major reason for the miscalculation, experts say, is that the figures of dead and injured were disputed. Activists and government agree the initial settlement was based on incorrect data. "About 93 percent of victims were left out of compensation," says Rakesh Kumar, a volunteer from Bhopal Group for Information and Action, one of five activist groups leading the protests.
Does the fight to get enhanced compensation against UCIL — now overtaken by Dow Chemical — stand a chance? Many cases have been launched in India and the United States calling for Dow to pay compensation to survivors and to clean up the lingering environmental pollution, without success. The company argues it was not involved in the tragedy, having purchased UCC 17 years later. However, critics iterate that a successor company, in this case Dow Chemical, inherited both the assets and the liabilities of Union Carbide.
UCC's CEO at the time of the disaster, Warren Anderson, died in September at the age of 92 as a fugitive in India, having never stood trial for criminal charges. But that hasn't ended compensation claims. Fresh ones are being launched by those never counted as victims, including children with inherited health problems and those affected by drinking groundwater contaminated by pollution still leaking from the site.
Nearly three decades later, Bharti Upadhyaya, 45, is among thousands of survivors who say they suffer chronic health problems and have crippling medical bills. "My lungs continue to bother me even after so many years. I feel breathless even after walking a little. Despite expensive treatment, doctors say my lungs will never recover fully and I may die in the next few years."
A refrain of loss and angst resonates in house after house in the lanes around the ruins of the old Union Carbide plant in Bhopal. The victims are demanding more compensation for all survivors and a correction of the death toll and the extent of injury in the curative petition.
In an annual ritual on the tragedy's anniversary each year, thousands of victims across the country, as well as various NGOs representing those affected, hold rallies chanting slogans and burn effigies of Warren Anderson, the logos of the U.S. firm and its current owner Dow Chemical, and the flag of the United States.
Last year, the Madhya Pradesh government announced the construction of a Hiroshima-like memorial for the gas tragedy victims on the premises of the defunct factory. But will such tokenism really help anybody? Far more thoughtful would be to address the issue of toxic waste, and the continuing contamination of the UCIL surroundings, rehabilitation of the victims and more compensation for their sufferings. Until that is done, Bhopal's hapless souls — whose worlds turned topsy-turvy that fateful night 33 years ago — will have no closure.
Neeta Lal is a Delhi-based editor and journalist. She was a nominee for the SOPA Awards 2014 and World Media Summit Awards 2014    
Features
Environment
South Asia
India
Bhopal Disaster
India environment
India industrial safety
Union Carbide India Limited factory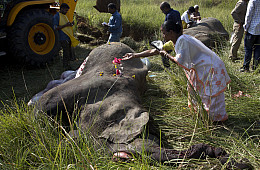 May 15, 2018
Assam's Elephant Emergency
In northeastern India, human-elephant conflict is getting worse as forest resources dwindle.
Read Story
India's Wildlife Trafficking Epidemic India's Controversial Afghanistan Dams The Taj Mahal: Monumental Neglect Dying Young in Mumbai's Slum Rehabilitation Camp Floods, Droughts, and India's Uncertain Climate Future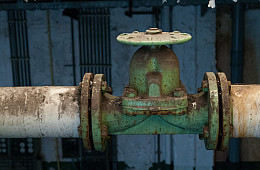 November 07, 2018
Central Asia Gassing Up China
Kazakhstan looks to increase its natural gas exports to China, and Turkmenistan may be gaining an old customer back.
Read Post
Is a Thaw Coming in US-China Relations? India's HAL to Double Annual Production Rate of Tejas Light Combat Aircraft From 8 to 16 Even With a Waiver, Will Iran Sanctions Chill US-India Ties? US, Japan Move Into Final Portion of Keen Sword 2018 Bilateral Military Exercises Nepal's Emergence as a Cricketing Nation: Challenges Ahead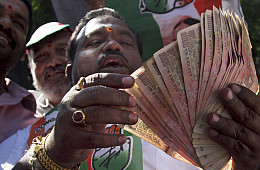 November 06, 2018
Demonetization: Minimum Governance, Maximum Gundagardi
Modi's approach, epitomized by demonetization, reinforces India's statist tendencies.
Read Feature
Return From a Pakistan Dungeon #MeToo: Nepal's Women Speak Up North Korea and the Prestige Dilemma Pushback: America's New China Strategy Melaka, Malaysia: Chinese History, Chinese Future?
Sign up for our weekly newsletter
The Diplomat Brief

November 05, 2018
New Video Shows Moment of Near-Collision Between US and Chinese Warship in South China Sea
A Chinese destroyer issued an unusually hostile verbal warning to the crew of a U.S. destroyer.
Read Story

November 02, 2018
South Korean Broadcasters Change the Way They Cover North Korea
As the inter-Korean thaw continues, South Korean broadcasters are getting more serious about reporting on the North.
Read Story

November 02, 2018
Bhutan: The Mental State of the Happy Kingdom
In Bhutan, mental illness continues to be stigmatized and there is barely a national conversation on the issue.
Read Story
Interview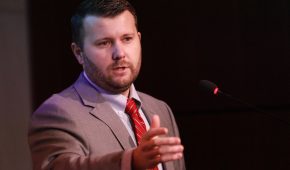 October 31, 2018
Greg Poling: Imagining an Effective South China Sea Code of Conduct
The Diplomat talks with the chair of CSIS' Expert Working Group on the South China Sea.
Read Interview
More Interviews
Regions
Central Asia
East Asia
Oceania
South Asia
Southeast Asia
Topics
Blogs
Diplomacy
Economy
Environment
Features
Interviews
Magazine
Photo Essays
Podcasts
Politics
Security
Society
The Diplomat's Quiz
Videos
Blogs
China Power
Flashpoints
Asia Defense
ASEAN Beat
The Pulse
The Koreas
Tokyo Report
The Debate
Crossroads Asia
Trans-Pacific View
Pacific Money
Asia Life
Oceania
Archives
Sport & Culture
Indian Decade
A New Japan
New Leaders Forum
New Emissary
Tokyo Notes
APAC Insider
Asia Scope
China, What's Next?
James Holmes
Tech Biz
Zachary Keck
The Diplomat
About Us
Partners
Advertise
Syndication
Privacy Policy
Contact Us
© 2018 The Diplomat. All Rights Reserved.