[ CleverThings.com ] [ Cherokee ] → Cherokee Language
The Cherokee Language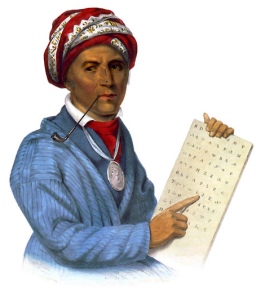 No discussion of the Cherokee language would be complete without acknowledgment of a half Cherokee known as Sequoyah. In 1821, George Gist, (also known as Sequoyah ) created the Cherokee Alphabet and Syllabary.
To learn more about George Gist, visit our page dedicated to Sequoyah .
---
Before learning how to speak, read, or write in Cherokee, you will need:
Cherokee Fonts

Cherokee Syllabary

Language Lessons
---
1. Cherokee Fonts

In order to read or write the Cherokee alphabet, you will need a font for the Cherokee language.

Result

Font

Description

Requirements

ᎣᏏᏲ

XML Encoding

This is the preferred way to read and write in Cherokee. When creating new content, consider using this method.

XML &#5024 to &#5108
Character Map

osiyo &0x13A0;

Unicode

The Unicode specification letters can be scrambled when going between UTF-8 and UTF-16.

Unicode 3.0 or greater
0x13A0 to 0x13F4
Character Map

osiyo

Digohweli

Digohweli is a type of Unicode Cherokee font. The reader must also have this font installed to view the correct alphabet.

Digohweli font
MD5 Checksum: 17f593b57a6ba90fb9b1d7d91c32e550

osiyo

Aboriginal

Aboriginal is a great way to write using the Old Style scripting, but the script style is less recognized than the modern Cherokee characters.

Aboriginal Font

oRY

Cherokee TTF

This is the True Type Font (TTF) for Cherokee. Users must have this font installed and a keyboard map is required.

Cherokee TTF font
MD5 Checksum: 35ac43a521d53a534dcaade8f7e24125

Keyboard Map for Cherokee TTF
MD5 Checksum: f0a380dfa612b1146b3d744b4621611f

Each font should say "Osiyo" in Cherokee as O-si-yo. For further assistance, visit the font page at Cherokee.org .
A popular way for communicating in Cherokee is by using key mapping software that converts phonetic text into Cherokee such as Tsulehisanvhi Keyman software by Tavultasoft .
---
2. Cherokee Syllabary
The Cherokee Syllabary will teach you how to pronounce each Cherokee syllable and associate the sound with the Cherokee symbol.
Download Cherokee Syllabary from Cherokee.org
---
3. Language Lessons
Sign up for online Cherokee language classes and start communicating with others in Cherokee. At Cherokee.org , the Cherokee Nation has a nice collection of language resources . They also have songs and recordings of native Cherokee speakers in the download section of Cherokee.org .
youtube.com/user/jubchuqun by Lee Lewis has great Word of the Day (WOTD) lessons in the modern Cherokee script, the old style script, and in English. You can have WOTD sent to your email, but I really like the YouTube videos because you can actually hear the words being spoken.
CherokeeLessons.com has a comprehensive collection of language resources. They have thorough content, games, an android app, and more!
Cherokee Phoenix Newspaper articles are sometimes printed in both Cherokee and English. It will help you see the language in action and learn new words.
CherokeeNationFoundation.org has a dictionary which can be useful when learning new words.
TalkingLeaf.org has games, books, and tutor.
ani-kutani.com has alternate fonts for new and old styles of writing. They also have the syllabary organized by sound and other useful arrangements.
Why Cherokee Syllabary Sucks is the most interesting history of the language that I've ever read.
---
Learning Cherokee is no easy task. It takes great commitment and practice, so be patient. Good luck!