Metro Life Ad Rates
Home




Deccan Herald


Metro Life Ad Rates
Check out Deccan Herald Metro Life Ad Rates
Tariff Rates in Rupees per Sq.cm.(w.e.f 01-12-2016)
| | | | | | |
| --- | --- | --- | --- | --- | --- |
| Edition | Inner Page (B/W) | Inner Page (Colour) | Front Page (Colour) | Page 3 (Colour) | Back Page (Colour) |
| All Edition Supplements | 800 | 1000 | 1400 | 1100 | 1100 |
| Bangalore Supplements | 700 | 900 | 1200 | 1000 | 1000 |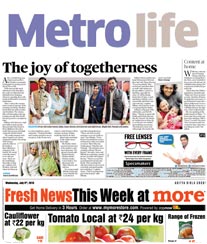 Book Metro Life Advertisement Online in Deccan Herald Newspaper at lowest charges
Check out Latest Metro Life Ad Rates of Deccan Herald Newspaper from the below tariff table. The rates mentioned are in Rupees per square centimeter. This Table for Deccan Herald Metro Life Ad Rates provides you cost for Front Page, Back Page, Page 3, Page 5 and Inner Page Position for its various Editions. You can also download Deccan Herald Advertisement Rate Card which is available in Pdf & Excel format. You can avail Special Offers & Discounts on this Tariff Rates. To get an Free Quote for Metro Life advertising please email your requirement to [email protected] .
Get a Quote for Metro Life Ad in Deccan Herald Newspaper
Deccan Herald Online Advertisement Booking
Book Deccan Herald Classified Ads Online in Bangalore and other editions of the newspaper. Classifieds are the most cost effective form of advertising in the newspaper. Reach your targeted audience through advertising in the Deccan Herald Classified Column. Book Ad for the following categories in Deccan Herald Classified Section. Real Estate , Rental , Recruitment , Matrimonial , Name Change , Obituary , Vehicle , Lost Found , Business, Travel Classified Ads published in Bangalore Newspaper.
Deccan Herald Classifieds are popular in Bangalore , Mysore , Mangalore and other districts of Karnataka. The deadline to book classified in Deccan Herald is 1 day prior. You get more response on Saturday and Sunday Classifieds feature in Deccan Herald
Deccan Herald Editions & Circulations
Bangalore –

204,472

Copies
Mangalore –

17,408

Copies
Here is how you can book Metro Life Ad in Deccan Herald:
Follow a few simple steps process for booking and publishing Metro Life Ad in Deccan Herald Newspaper
Check Metro Life Ad Rates which are mentioned in Rupees per square centimeter for Deccan Herald.
Decide your Metro Life advertisement size by calculating the rate multiplied by sq. cm. to suit your budget.
Get the Metro Life advertisement draft for the ad content ready keeping the decided size in mind. Send us the advertisement content & get a quote along with discount for Deccan Herald Newspaper.
Plan your publishing schedule for Metro Life advertisement by checking booking essentials mentioned for Deccan Herald newspaper.
Upon receiving your consent on the Ad Rates quoted for Metro Life Ad in Deccan Herald, we will send you an invoice with every payment options available.
Once the payment is received, our designing team would start designing your Metro Life ad as per your requirements and it will get published on the chosen date in Deccan Herald.
After your Metro Life advertisement is published in Metro Life newspaper, an e-paper copy of the newspaper will be received by you for reference
Deccan Herald Ad Rates for Other Advertising Categories



Wednesday 7 Nov 2018
updated: 7:36 pm IST
E-Paper
Classifieds
Newsletter
BLR 24 ° C Clear

Sensex: 35237.68

+286.76

Nifty: 10598.4

+74.4
Home

Bengaluru

Top Stories
Crime
Politics
Infrastructure
Life in the City

Karnataka

Top Stories
Politics
Districts

Assembly Elections 2018

Rajasthan Votes
Telangana Votes
Madhya Pradesh Votes
Chhattisgarh Votes
Mizoram Votes

National

Top Stories
Politics
North and Central
South
East and Northeast
West

Sports

Cricket
Football
Tennis
Sportscene
Other Sports

Business

Business News
Economy & Business
Family Finance
Technology
DH Wheels

World

Opinion

Editorials
Panorama
Comment
In Perspective
Right in the Middle

Metrolife

Your Bond With Bengaluru
Cityscape
On The Move
Lifestyle

Videos

Bengaluru
Karnataka
People
Popular

Specials

Insight
Point Blank
Sunday Spotlight

Entertainment

Entertainment News
DH Talkies
Arts, Books & Culture

Travel

Spectrum

Living

Front Page
Health 'n' Well-Being
Fashion Folio
Food Fiesta

Sunday Herald

SH Top Stories
Entertainment
Articulations
Art & Culture
Melange
Books

Photos

Pics of the Day
DH Galleries
70 Years of DH
My Take
Your Space

DH Education
IN BRIEF:
CCB to grill Janardhan Reddy
US Cong gets 2 Muslim women
Failed to stop violence: FB
Avni case: CBI probe demanded
Srinagar shivers at -2.2°C
Barca through to last 16
Home
Metrolife
Metrolife – Your Bond with Bengaluru
Metrolife – Your Bond with Bengaluru
Online stealing offline festive sales thunder


Green crusaders wonder what a green cracker is

Loud crackers out of favour


How to green your Deepavali

Rise in number of girl kids trekking up Sabarimala


City restaurants still say 'service charge' mandatory

Be alert when you shop online


Kannada films for all time

In cracker season, vets treat panicky dogs


Chennai #MeToo echoes in Bengaluru

City helpline for elders gets 150 calls a day


The unusual story of David Frawley aka Vamadeva Sastri

Editing script of my life was important: Shobhaa De


BLF: Wit, sarcasm mark Tharoor's session

Legal or not? The curious case of city's 'bitcoin ATM'…

The world's our kalyana mantapa


Bengaluru's dosa heaven, Vidyarthi Bhavan, turns 75

Prem gets abusive videos, goes to cops


After #MeToo, Sruthi seeks more safeguards for heroines

Campaign calls for citizen action to save govt schools


Kids' books, fiction popular at Bangalore Book Festival

Tumbbad is visually mesmerising gibberish


Bengaluru's first Iyengar bakery is 65

'The Villain', Prem's big test


Sabarimala developments echo Chandragutti row

H1N1 is in the air, but don't panic


Efforts on to revive play stopped by protesters

Power girls steering #MeToo


Dasara dolls come alive across city

#MeToo: Okay, learn not to be creepy at office

Aid groups plead for safe passage for Yemen civilians


'Frog ladders' help critters escape death-trap drains


Foakes, spinners put England on top

Money laundering case: CCB to grill Janardhan Reddy


Pressure for DK Shivakumar to join BJP, says brother


Cash ban flop, polls push govt to RBI funds: Sources


Mysuru gears up for Tipu Jayanti amid protests


Firecrackers: SC, GoK orders have little, no effect


Barca through to Champions League last 16 despite draw


Day after bypoll loss, cops hunt for Janardhana Reddy


UNESCO tracks inquiries into journalist killings

social feed

Tweets by @DeccanHerald